There is a line at the beginning of Todd Field's celebrated new film "TAR" that notes its subject, fictional conductor Lydia Tar, is many things. She's an EGOT winner. She's a best-selling author. She's, in this world at least, a classical music icon. But for Cate Blanchett, the Oscar-winner who magnificently portrays the title character, she represents something much more.
Field's first film in 16 years, "TAR" follows Lydia as she prepares to record Gustav Mahler's Symphony no. 5 as the resident conductor of a noted German orchestra. A rare achievement for a conductor (or so we're told). The very in-demand celebrity is also juggling other stressful commitments including the launch of another book (she's already had at least one best-seller). But, much to the dismay of her longtime loyal assistant (Noémie Merlant), she has a wandering eye and finds herself captivated by a new cellist in her midst (Sophie Kauer). A seemingly mild infatuation that risks derailing her marriage to her concertmaster Sharon (Nina Hoss) and what appears to be an impeccable professional reputation.
"I think the film is also about many things, but it is a medication on the corruptive nature of power," Blanchett says. "I think, in the same way that the mobile phone influenced the way narrative unfolded, we haven't even processed the ramifications of the #MeToo movement, Black Lives Matter, and the pandemic. We are altered by these things, positively and negatively. Already, the #MeToo movement is talked about in pejorative, negative terms, as much as had a profoundly positive effect in awakening people's consciences. But we're changed by it. And so, any film that is alive now will have reverberations with those things that have happened to us as a species. This film is no different. But it's not about that. You know what I mean? But of course, it's a texture and influences the atmosphere in the film."
Over the course of our conversation, Blanchett discusses her inspiration for Lydia, how she learned to conduct a major orchestra, whether her mother is a fan of her character in this particular film, and, much, much more.
____
The Playlist: Thank you so much for taking the time. I know it's been a long day for you of doing press, so I do appreciate this.
Cate Blanchett: No, no, no. I can't tell you. It's been such a pleasure to sort of begin to talk about the film. Any film that I've ever been involved in to somehow define. It's so elusive and about so many things, so yeah. It's been actually really helpful to try to understand the beast.
The film tells us so much about Lydia, but in many others ways, it doesn't tell us a lot about her, at least parts of her life. I don't want to spoil anything for people who are reading those before they saw the film, but we obviously learn things about her that we might not have initially suspected.
Yes.
Were there things that Todd told you about her backstory specifically or did he sort of just give you the script and let you fill in the blanks yourself?
Well, like when you read any great screenplay, it asks so many questions, and so much of the information is there, not necessarily readily accessible on the first read. But as you begin to mine the script, a lot of that material is there. And so, Todd didn't tell me much. Initially, our conversations were intensely practical, because before I could get to even first base with playing the role, there was so much groundwork that I had to do in order to be able to play the scenes, in order to even approach who she was, just technical stuff, in terms of languages, and I don't just mean German. The musical language and reigniting my ability to read a score and revisiting piano, and then, of course, the art of conducting, which I had to put my toe in that very deep and complicated water. So, it was very practical at first.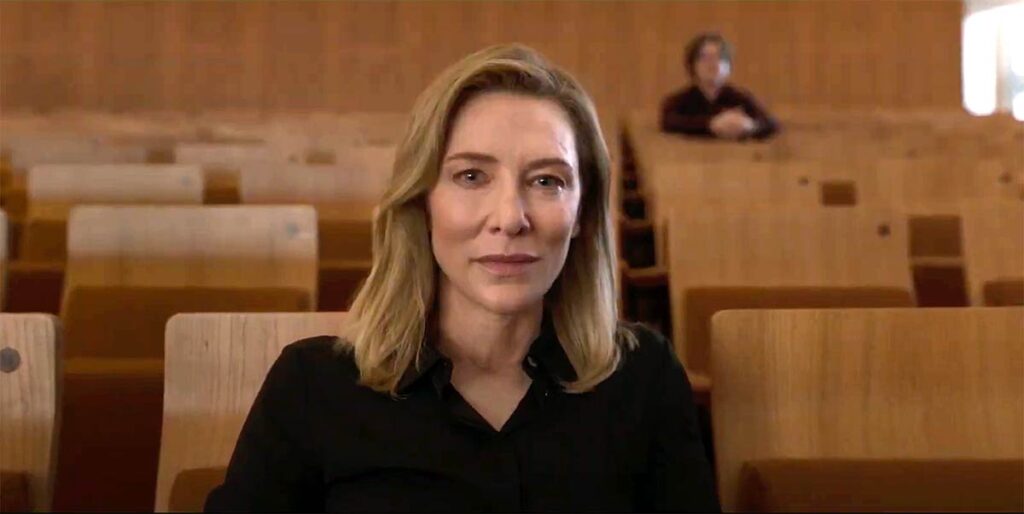 And then once we got closer to time, I started asking a lot of questions. This is where he's such a great director is he was more interested in me finding my own way to it. He didn't want to give me a ready easy answer. And in my time with any great acting teacher that I've worked with or any great sort of public intellectual or academic, they always ask you a question which provokes another question within you. So he would throw ideas into the mix as we were shooting, things that didn't necessarily end up in the final edit of the film, but made the back story for Lydia so alive. And I think, I hope, for an audience, that's what makes her such a rich character. So he was really judicious about what he said. He was sort of waiting for me to unearth those jewels if you know what I mean.
Absolutely.
It was one of the most intense and kind of landscape-changing, groundbreaking, whatever the description is, collaborations that I've ever had. It was so dynamic and alive.
I caught a recent interview you conducted where you thought that the idea of learning how an actor learns how to conduct or whatever is sort of boring, and you were wondering why people would be so curious.
No, no, no. I didn't mean that at all.
Oh.
I don't want the audience to see my homework. You know what I mean? You want them to be transported and to believe absolutely that this person is one of the world's greatest conductors. So I had to do that homework, but I don't want the audience to be taken out of the movie thinking about that stuff. Do you know what I mean? That's what I mean. I don't want to break the spell of anything that Todd has created by over-describing the process.
Which I totally respect and understand. It actually goes to my question. You have these scenes where you are conducting symphonies and rehearsals and it starts and it stops as any rehearsal would. And I know that you worked with conductor Natalie Murray Beale, but what was the mechanism to make that work on set? Clearly, you did not want even a casual classical music fan would go, "Oh, that would never happen like that."
Exactly. It's not a film about conducting. You have to know that conducting is as natural and essential to Lydia Tar as breathing is. I was fortunate. I was working in Budapest and I was taught piano by an incredible concert pianist, and I learned a lot about the process of conducting from her. And Ilya Musin, who's one of the great conducting teachers, it's amazing what you can find in YouTube, particularly during a pandemic when you couldn't meet face to face. I watched his master classes over and over and over again to understand the concept of what the right hand did and the left hand did. The woman who was teaching me German teaches German to opera singers, Francisco Roth, and so she was really across the musical language and the relationship of the conductor to the orchestra. And so, I had all these amazing people, various different points of insight, and also then, for me, having gone to a lot of classes of music concert myself and having heard the music, I then watched every single conductor I could get my hands on from different generations, from different cultures in different sized orchestras, their different way in to see. I realized very quickly that their form of communication was entirely idiosyncratic, and then there are textures in the film which aren't, as I said, in there.
I imagine that she was the child of deaf parents, so how does sign language influence the way she conducted and her relationship to sound? She has an acute sensitivity to sound. But it wasn't until I did all that homework, it wasn't until I stood up in front of the Dresdner Philharmonie who were profoundly generous with … Even with the entire cast and crew. When you raise your hand, you get the downbeat, and the sound starts, and you find your own way with them. So, they had to act. It was outside their comfort zone, and I had to conduct them, which was also outside of my comfort zone. And so, somewhere, like any conductor in any orchestra, somewhere between us, the music happened. And of course, there was a lot of groundwork that needed to be done in terms of selecting [the music]. Todd had written these rehearsal scenes, but then Natalie and I went through them all and said, "Well, what about this piece? This piece with 19 bars would be great and there's a dynamic counterpart to the previous six bars that we've done in rehearsal." So then, we suggested those pieces to Todd and he edited them, and then I just listened to them on repeat, on repeat, on repeat. And of course, listened to all symphonies to see how this one differed or echoed, and read a lot about Mahler, because trying to delve into the process that great conductors do, which is to give a context and a take on the music.
More from this interview on page two.